Chief Executive Officer – Mr. Mxolisi Nkosi
Mxolisi Nkosi is the Chief Executive Officer for the Entity. He joined us in February 2018. Mr Nkosi holds Bachelors Degree in Accounting Science amongst other academic  qualification he has obtained the following with various institutions: Leadership Development Certificate , Diploma in Business Management, Executive Leadership Municipal Development Program  (ELMPD) , Certificate Programme in management development for municipal finance (CPMD), advanced certificate programme in management  and development for municipal finance (advanced CPMD).  His professional career started in 1997 where he was employed as part time tutor with former technickon SA (UNISA).  Mr Nkosi has more than 20yrs of work experience and a  vast experience in  both in the public sector as well as in the private sector . He has worked in number of various senior positions amongst those which include being a Municipal Manager for Umsunduzi Local Municipality from 2012- 2017, and also the Municipal Manager for Greaker Kok Stad Municipality from 2007- 2011. Amongst other important Senior position he has held over the years includes: Programme Manager, Head of Company, Chief of Staff, General Manager and Chief Financial Officer. Mxolisi Nkosi has vast experience in Local Government and Financial Management and Administration.
Mr Nkosi job is to lead the Ntinga and to provide leadership in the development and execution of the entity's long-term strategy with a view to creating synergies within the entity; and serve as Accounting Officer in terms of the MFMA.
Office of the CEO Manager – Nwabisa Mpendu Mningiswa
Nwabisa Mpendu Mningiswa is the Manager in the Office of the CEO, since 01 January 2018. She started working for the Ntinga O.R. Tambo Development Agency in 2006/09/01 as a Company Secretary responsible for: Board Secretariat; Executive Support to the Chief Executive Officer; Corporate Performance Monitoring & Evaluation; Legislative Compliance and Public Relations & Marketing Co-ordination.
She started her career as a Social Worker and a Business Development Consultant at Cape Town Society for the Blind working closely with Visually Impaired people starting their own small business in the Western Cape. She joined Vodacom Pty Ltd in 1999/10/01 as the Customer Care Consultant, Supervisor and later Senior Quality Assessor.  She has served in the Employment Equity Forum at Vodacom and has received certificates on performance management as well as customer service.
She holds Masters of Business Administration (University of Stellenbosch Business School); Honors in Business Management and Administration; Diploma in Business Management (Varsity College), a Diploma in Human Resources Management (Varsity College), BA Social Work (University of Fort Hare) and Honours in Psychology (Walter Sisulu University).
Head Corporate Services – Ms. Mviko
Ms Mviko has worked for local government for 16 years just after the introduction of developmental local government in 2001 at Intsika Yethu Municipality. She started her career in Human Resources in 2002 when she acted as Human Resources Officer. In 2006 she was appointed as a Skills Development Officer at Nyandeni Local Municipality where she won an award for the municipality as the Second Runner-up as the best performing municipality in the Eastern Cape. She was then appointed as Human Resources Manager in 2008 until 2012 when she left for the position of Director Corporate Services at Engcobo Local Municipality. She established business units that never existed including OHS, Registry & Archives Employee Health and Wellness which led to the municipality received clean audit in 2015/16 financial year. She held the fort until 2017 October when her contract expired. She joined the Agency in April 2018.
Mviko is registered as a Chartered HR Professional with SABPP and holds B Admin from UWC, BAdmin Honours (Industrial & Organisational Psychology) from UNISA, Master of Public Administration from University of Fort Hare and Post-Graduate Diploma in Labour Law Practice (NMU).
Chief Financial Officer – Mr. Loyiso Mbiko
Mr. Loyiso Mbiko is the Entity's Chief Financial Officer. He joined us in February 2014. Mr. Mbiko is a Bcompt Honuors Degree Graduate. He has over 19 years of experience in financial management, internal and external auditing, and risk management. His professional career started in 1996 as a trainee accountant with a registered firm of Chartered Accountants. He has been a consultant and a trainer in financial management as well as financial systems rollout. Mr. Mbiko's experience is both in the public sector as well as in the private sector. He has over 12 years of experience at Senior Management level. He holds an international certificate in Risk Management Assurance (CRMA) and a Certificate Programme in Management Development for Municipal Finance (CPMD) with Wits Business School.
Mr. Mbiko's job is to lead an efficient and effective finance department providing a variety of services to the Entity such as financial planning and analysis, treasury, tax, budget planning, revenue and expenditure management, supply chain management, asset management and other finance operations.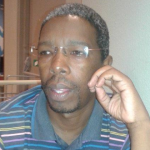 Acting Head Water Services – Zandisile Lawrance Kanise
Zandisile Lawrance Kanise was born on 12 December 1965 in Mt Fletcher but moved at infancy to grow up in Port St John's
In 1986 he passed matric at Zingisa Minor Seminary, Mthatha
In 1987 he joined the Congregation of Marianhill Missionaries (CMM) of as a Novice in the calling to Catholic Church Priesthood
In 1988 to 1990 he St Peter's Major Seminary where he received training in Philosophy and Theology towards catholic priesthood but did not complete the training, and as such was never ordained a priest
While at St Peter's he was allowed to enrol at UNISA for an undergraduate qualification in development studies and he dropped out at the 2nd year level.
He undertook a number of short courses in Process Facilitation, Writing Skills, Advanced Project Management, Batho Pele, Local Economic Development and Asset Based Community Development.
In 1991 – 1993 he is served as a Co-operatives Development Officer for the Catholic Development Centre and worked within the Southern Africa Co-operatives Network (SACNET).
From 1993 to 1998 he served as a Managing Director of the Transkei Land Service Organisation, Mthatha that played a leading role in the advancement of community land rights that were violated under both apartheid and homeland systems of government
From 1998 to 2000 he served as a managing director of the Surplus People Project, Cape Town, and an organisation that played a leading role in the advancement of community land rights violated under apartheid system of government and forced removals in particular.
For two terms (1996 and 1997) he served as the national chairperson of the National Land Committee which made a significant contribution to the land reform of South Africa through lobbying and advocacy.
Prior to joining Ntinga O.R. Tambo Development Agency he works as a consultant in local economic development for Eastern Cape Appropriate Technology Unit (ECATU)) and the Centre for Integrated Rural Development (CIRD).
He is now working as an Acting Head: Water Services and Manager: Project Management Office.