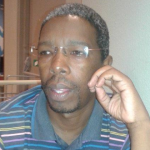 Zandisile Lawrance Kanise
Acting Head Water Services
Zandisile Lawrance Kanise was born on 12 December 1965 in Mt Fletcher but moved at infancy to grow up in Port St John's
In 1986 he passed matric at Zingisa Minor Seminary, Mthatha
In 1987 he joined the Congregation of Marianhill Missionaries (CMM) of as a Novice in the calling to Catholic Church Priesthood
In 1988 to 1990 he St Peter's Major Seminary where he received training in Philosophy and Theology towards catholic priesthood but did not complete the training, and as such was never ordained a priest
While at St Peter's he was allowed to enrol at UNISA for an undergraduate qualification in development studies and he dropped out at the 2nd year level.
He undertook a number of short courses in Process Facilitation, Writing Skills, Advanced Project Management, Batho Pele, Local Economic Development and Asset Based Community Development.
In 1991 – 1993 he is served as a Co-operatives Development Officer for the Catholic Development Centre and worked within the Southern Africa Co-operatives Network (SACNET).
From 1993 to 1998 he served as a Managing Director of the Transkei Land Service Organisation, Mthatha that played a leading role in the advancement of community land rights that were violated under both apartheid and homeland systems of government
From 1998 to 2000 he served as a managing director of the Surplus People Project, Cape Town, and an organisation that played a leading role in the advancement of community land rights violated under apartheid system of government and forced removals in particular.
For two terms (1996 and 1997) he served as the national chairperson of the National Land Committee which made a significant contribution to the land reform of South Africa through lobbying and advocacy.
Prior to joining Ntinga O.R. Tambo Development Agency he works as a consultant in local economic development for Eastern Cape Appropriate Technology Unit (ECATU)) and the Centre for Integrated Rural Development (CIRD).
He is now working as an Acting Head: Water Services and Manager: Project Management Office.